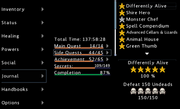 Unlike the main quests, side quests in Do&De are not part of any plot lines. Side quests mainly consist in killing different types or enemies by race or type or to collect a certain amount of items that are dropped by the enemies.
As you explore the world, you will encounter many different types of monsters/enemies and certain types of enemies will tend to be concentrated in specific areas or regions of the world map. Side quests are a good way to get useful pieces of equipment, weapons and accessories at a certain stage of the game and to earn golz.
For each side quest, there are 3 different ranks to attain: Bronze, Silver and Gold. Next to each of the side quests, a star next to the name of the quest will indicate which rank you've attained for each of the quests so far.
Note: Completing side quests will allow you to get 3 of the achievements and increase your "Completion" percentage % at the Journal menu.
Most of these opponents can be found in the Arenas. Fighting them there speeds up the grind, allows you to collect golz at the same time, and can sometimes help you advance in multiple side quests at once.
Name
Enemy Type/Race
Bronze
Silver
Gold
Advanced Cellars & Lizards
Lizards
x10
Dragon Tooth
x25
18 x 
x60
3 x 
Animal House
Animals
x25
Pic-nic Basket
x60
Piggy Bank
x150
Lunch Box
Arrrrr!
Pirates
x20
6 x 
x50
Flying Meatball
x125
Pirate's Cosplay
Differently Alive
Undead
x25
6 x 
x60
Skull Key
x150
Lich's Hand
Fairy Tales
Fairy
x25
Purse
x60
9 x 
x150
Golden Pot
Good Cop
Mafiosos
x25
Righteousness Certificate
x60
Righteousness Certificate
x150
Flying Meatball
Green Thumb
Plants
x10
Ivy Rope
x25
12 x 
x60
3 x 
Ivory Hero
Bigots
x10
Gentlebone Certificate
x25
Gentlebone Certificate
x60
Gentlebone Certificate
Monster Chef
Cooks
x10
Gigi's Cookbook
x25
Resource Box
x60
Spoon of Prosperity
Robot War
Constructs
x10
12 x 
x25
Cardboard Box
x60
Dwarven Holy Wrench
Shire Hero
Scoundrels
x10
Certificate of Valor
x25
Certificate of Valor
x60
Certificate of Valor
Spell Compendium
Spellcasters
x25
12 x 
x60
Erlenmeyer Flask
x150
Dark Eidos' Distiller
Starvoid Trooper
Void Troopers
x25
Boule de Void
x60
9 x 
x150
Void Accumulator
That's not Italian food
Flying Spaghetti Horrors
x20
4 x Pastafarian Keys
x50
Thermos
125
12 x 
World of Orc-craft
Orcs
x10
12 x 
x25
Orcish Walkman
x60
Resource Box
Community content is available under
CC-BY-SA
unless otherwise noted.