This is an endgame quest available after finishing the main storyline of the Doom & Destiny: Advanced sequel, past chapter 13.
This quests starts in the Mage Tower near River Town.
Violet MacGuffin asks the heroes to find and bring back the missing Archmage. After completing Chapter 13, the heroes will now be able to go up a set of stairs leading to the 6th floor of the tower. By going through a portal in the Archmage's office on the 6th floor, the heroes find themselves in Benjamin's Cellar.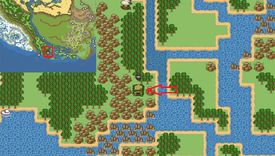 When the heroes go outside, it turns out that they're at the other end of the world. They follow a trail of red and green blood and set out on a wild goose chase, plowing through hordes of wild plants and high-tech mafiosi until they finally meet a Predator-type boss (from the famous movies) who is holding the Archmage as a captive.
After defeating the Predator boss, Archmage Atomix rewards the heroes with red paint, which permanently improves all ships: it paints them red and allows the heroes to navigate through deep sea water tiles.
Once the quest is completed, Archmage Atomix offers the following epic equipment for Nigel's classes:
 Wizard: Epic Staff (7,800 ), Epic Pileus (7,800 ).
 Necromancer: Epic Buckle (7,800 ), Epic Tiara (7,800 ).
 Summoner: Epic Vest (7,800 ), Epic Bestiary (7,800 ).
Community content is available under
CC-BY-SA
unless otherwise noted.