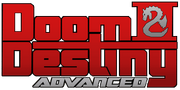 The nerds from
Doom & Destiny
 are back in another, more fun JPRG!
This time, the heroes will meet face to face with an evil businessman from another dimension and stop his ruthless startup to conquer the universe!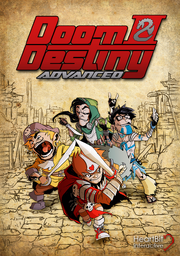 Doom & Destiny: Advanced is an enchanting and fun 16-bit JRPG but one that is not afraid to mix modern interpretations.
This is a brand new adventure in which you control the same four everyday dudes from the first game. Embark on an unpredictable and ever-expanding world, meet hundreds of enemies in dynamic turn-based battles, give your team a unique style, improve their characteristics, strengthen classes, get different cosplays for the characters, fight with friends or against them in online cross-platform battles!
Thanks to the autosave system, the game records progress every 2 minutes even when the application is turned off. The Big Floating Crystal also records progress.
The Steam version of the game, announced on early access on PC and in beta status, was released on June 4, 2015. Furthermore, after certain stages of the test, the developers promised to take up the mobile product.
In the Early Access release, the game offered:
A huge world full of quests, secrets and geeky jokes.
Cross-platform innovations with the upcoming mobile version: share saves, call your friends for help in the battle and fight against them at the fantastic Arena.
Graphics and music created from scratch.
Dynamic turn-based battles with mid-turn reactions and counter attacks.
Unique glitches and typos (sorry).
You can burp in the face of nobles and even make a chicken explosion.
Mobile version of Doom & Destiny: Advanced : the game was finally released to all operating systems on Aug 3 2015.
Developer Tools: On February 24 2019, the developers officially announced the presence of Russian and German languages ​​in game version 1.8.1.7.
January 20 2017: the addition of the official Spanish localization was announced.
November 11 2015: progress was announced for the creation of a tool for translators to translate the game as soon as possible.
Interesting facts
Edit
Only in the W8 store was the game called "Doom and Destiny". For all other stores, the game was registered under "Doom & Destiny: Advanced".
Community content is available under
CC-BY-SA
unless otherwise noted.